Secure warehousing that flexes with your inventory, so you can confidently meet your customers' expectations.
With over 200,000 square feet of warehousing space, we offer you the freedom to choose the services you need –with the flexibility to fit a full range of product types and sizes. Our ultramodern facilities are outfitted with the latest warehouse management system, ensuring that we always know where your inventory is, and can move it quickly and seamlessly as you need it.
Order fulfillment that matches your needs
You work hard to build strong relationships with your end customers, and we want to help make them lasting ones. Our pick and pack fulfillment services are completely customizable and adaptable for B2B or B2C –whether you're simply looking to improve efficiencies or want to create a better customer experience.
Get automated with self-serve
industrial vending and open bin systems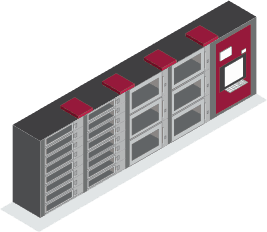 Simplify how you track and stock tools and parts with an automated vending solution that can be adapted to fit the size of your operation. Built to spec based on your requirements, a vending solution gives you a full view of what you have available, how fast inventory is moving and how much is needed. With automated alerts, you'll always be on top of reordering and issues with stock.
We can also help you source inventory for your bins.
Get a custom warehousing and fulfillment solution built for your business.
It's not just about offering up affordable space. For us, it's about giving you the right blend of supply chain solutions so you can do your best business.